Paleo Nut Energy Bars
Yields 16
Packed with nuts, dates and a hint of cinnamon, these Paleo Nut Energy Bars are great for an afternoon snack.
Prep Time :
10 min
Cook Time :
17 min
Total Time :
27 min
Ingredients
2 cups chopped pecans
1 cup chopped walnuts
1 cup chopped almonds
20 dates, finely chopped
3/4 cup egg whites
2 tablespoons cinnamon
1 1/2 teaspoons vanilla
Instructions
Preheat the oven to 350 degrees.
In a large bowl, mix together all of the ingredients.
To prepare the 9×13 pan, line it with parchment paper or aluminum foil and spray it with cooking spray. Press the nut mixture into the bottom of the pan.
Bake for 16-18 minutes. Allow the bars to cool for 5 minutes, then pull on the wax paper to remove them from the pan. Use a pizza cutter to slice the bars into rectangles of the size you'd like.
Cuisine: American | Recipe Type: Snack
Notes
You can use a mixture of whatever kind of nuts you'd like. We've used cashews before, too.
I normally use egg white that come in a carton instead of separating the eggs and having a bunch of yolks left over.
Preparation Steps:
Ready in under 30 minutes, the bars are super easy to whip up.  You'll use your Ninja Express Chop or food processor to chop up pecans, walnuts, almonds and dates into small pieces. I find sometimes that the dates are hard to chop up because they are sticky. If I put a few dates in with the nuts while they are chopping, it seems to help them get chopped into nice little pieces much better.  I have also used kitchen scissors to cut the dates into tiny pieces. That works just as well!
You'll mix up all of those protein-packed nuts and sweet dates and add in egg whites, cinnamon and a touch of vanilla.
I make our bars in a 9×13 pan.  Line it with oven-safe parchment paper or aluminum foil and spray the it with some coconut oil spray so that the bars don't stick to the paper.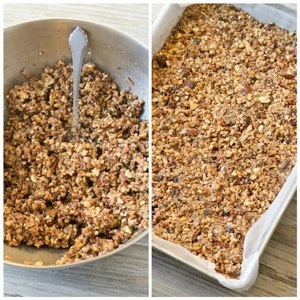 Press the mixture into the pan and bake it at 350 degrees for 16-18 minutes. When the bars are done, you can pull up on the wax paper and use a pizza cutter to slice your energy bars into the size bars that you'd like. I cut mine into 16 rectangles.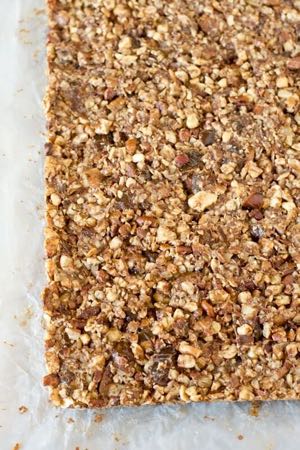 Dates are rich in natural sugar and carbohydrates, which gives these nut bars such an awesome kind of sweetness. Yes, I know that dates should be eaten in moderation on a paleo diet due to their sugar content, but we are a family of runners and they are a good, quick dose of carbs when we are preparing for a long run. Please do check the ingredients label on your dates. Many from the store have added sugar, but you can find them without added sugar.  The only thing listed on the ingredient label should be: Dates!!
I store my nut energy bars in the freezer. Like, way back in the freezer, hidden from sight so that the kids don't eat all of them. And even though I like them at room temperature, eating them cold makes me feel like I'm having a special treat. They're so good.
Enjoy!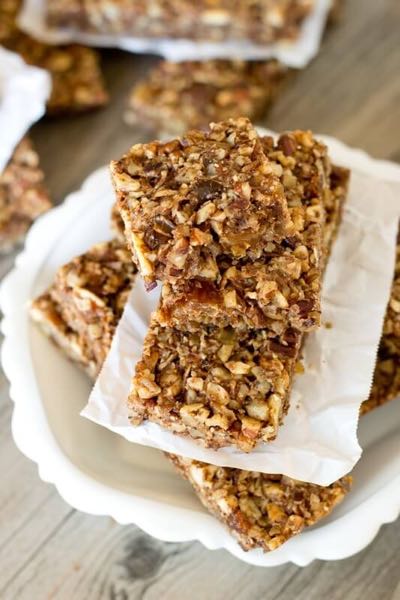 This recipe is a post by paleo food authors, Julie, Maddie and Kinslee, the mother & daughter team at Taste of Lizzy T's.  You can find the original post here.