Acne breakouts are an issue faced by most around the globe. There are only a few who are god's absolute favorites and do not face acne issues. Here we have for you some acne treatment at home tricks that will help you get rid of acne. (Source)
Acne loves to pop up especially when we have to go out for some event, to make some appearance. After all your acne wants to make an appearance too. We have for you some natural home remedies for acne that just wouldn't go away.
Why Is Your Skin Breaking Out?
Before treatment, you must first know, what causes acne?
Your skin starts breaking out when your pores are clogged by oil and dead skin cells. Each and every pore of your body is connected to a gland called the sebaceous gland. The sebaceous gland produces an oily fluid called sebum. Sebum's job is to keep the skin lubricated. The excess release of sebum leads to clogging of pores and the formation of acne-causing bacteria P acnes which in turn leads to acne formation. (Source)
Other factors too cause acne.
Genetic factors
Food habits
Stress and lack of sleep
Hormonal changes in the body
Infections
Best At-Home Acne Treatment
There is a wide range of acne-reducing products available in the market. Choosing wisely from this plethora of options is tricky. At times a product might suit your friend really well but not you, and vice versa.
Going to the dermatologists brings in long bills and long treatments for acne medication. Whether you have oily skin, sensitive skin, or dry skin, we have a few tips and tricks for reducing acne. So, read on and naturally bid adieu to those pestering acne and pimples.
At-Home Acne Spot Treatment using Tea Tree Oil
Tea tree oil (melaleuca oil) is an essential oil that is extracted from the leaves of the tea tree of Australia. Tea tree oil has antibacterial and anti-inflammatory properties. Studies found that tea tree oil contains 5% benzoyl peroxide, which is known for its acne reduction properties. (Source)
How to use
Deep cleanse your face.
Apply toner to your face.
Mix tea tree oil with some carrier oil like jojoba or castor oil.
Apply only to the affected area using a cotton ball.
For moisturization apply day or night cream depending on the time of the day.
Tea tree oil is available online and in medical shops. Tea tree oil helps in the reduction of acne and pimples. It also diminishes the scars left behind by acne.
Tea tree oil is great when applied to the skin, but do not consume it orally. It might prove toxic.
Acne Scars Treatment At Home Using Green Tea Extract
Green tea is famous for its slimming and immunity-boosting abilities. Nonetheless, it is very effective in reducing pimples and treating acne scars. Green tea is known to reduce inflammation. (Source)
Drinking green tea will help in the reduction of acne without a doubt, but there is a way to speed up the process. Apply green tea to your face for acne treatment at home.
How to use: –
Boil water and add green tea to it.
Let the green tea cool down
Apply the green tea to the whole face using a cotton ball or cotton wipe/ you can spray it on your face using a spray bottle too.
Wash it after 10-15 minutes of application.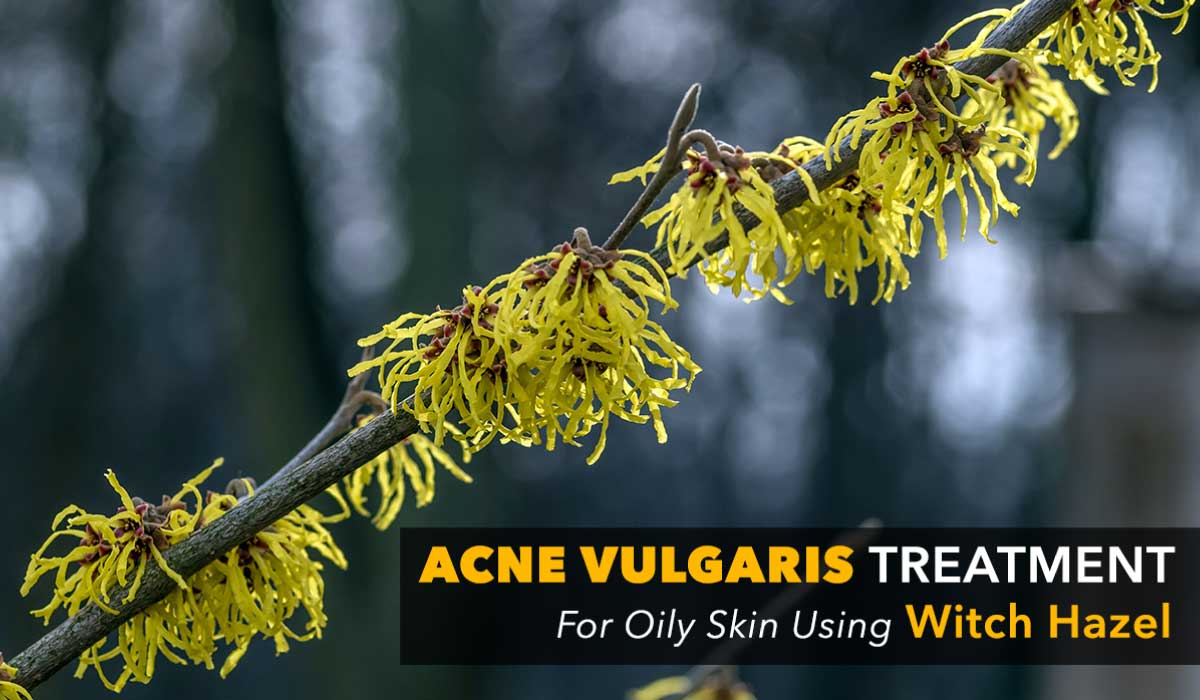 Acne Vulgaris Treatment At Home For Oily Skin Using Witch Hazel

If you have oily skin and are suffering from acne issues, then this tip is for you. Witch Hazel is extracted from the witch hazel shrub's bark. It has healing and acne-treating properties. It also helps in reducing skin irritation.
Witch hazel extract is available at online marketplaces and in specialty stores.
How to use:-
Cleanse your face well
For best results, steam your face, so that the pores are wide open.
Mix 1tsp of witch hazel extract with 1 tablespoon of olive oil.
Dip a cotton ball and apply it to the face.
Keep it overnight.
Witch hazel toners are also available in the stores. For the best results, follow the routine every night before falling asleep. Witch hazel is a natural shrub and hence shows no side effects.
Acne-Prone Skin Treatment At Home Using Aloe Vera Gel
Aloe vera is famous for its coolness, antibacterial, and anti-inflammatory properties. Aloe vera is used for multiple purposes. It's used in hair oil for growth and shine. It's used in creams for moisturization.
Aloe vera is a healing agent. It is recommended to use pure aloe vera gel. Extracting it directly from the Aloe vera plant can be tiresome, so if you want you can buy a gel from a departmental store or a pharmacy. Be sure to buy one which has more than 10% aloe vera content.
How to use:-
Wash your face well with cold water.
Use a toner to seal those pores.
Apply a thin layer of aloe vera gel on your face.
Massage it well by the circular motion of your fingers.
Sleep with it overnight.
Aloe vera gel can be mixed with other remedial measures too for cooling effect. You can use aloe vera gel instead of night cream too.
Back Acne Treatment At Home Using Exfoliation
Acne is not limited to any age. Anyone can face acne issues. To keep acne at bay, exfoliating is important. There are many body scrubs available in the market.
In case you want to go natural, we have just the recipe for you.
How to use: –
Take two tablespoons of melted dark chocolate.
Mix it well with granular sugar, two tablespoons of finely ground coffee, and half a cup of olive oil.
Wash your face well with a cleanser
Exfoliate away with your DIY scrub.
You can store this mixture in an airtight jar. Whenever you want to exfoliate, take the required amount in a microwave-friendly bowl and warm it for 5 -10 seconds.
To avoid back acne taking multiple showers will also prove helpful.
Fungal Acne Treatment At Home

The scientific name of fungal acne is Malassezia folliculitis. It occurs due to more than the required production of yeast called Malassezia. The production of excess Malassezia results in itching, skin irritation, and inflammation.
Fungal acne looks similar to normal everyday acne. If you want to identify, look for the extra redness around the acne, that extra redness and swelling screams fungal acne.
Tamarind helps in getting rid of the fungal acne like magic. It even helps clear the blackheads, blemishes, and spots. This trick works well with every type of skin. (Source)
How to use: –
Take some dried tamarind and soak it in water overnight i.e. around 10-12 hours.
Put the already soaked water and tamarind to boil.
After it cools down, strain the tamarind in a bowl.
Wash your face well.
Apply the strained tamarind like a mask and let it stay for 20-30 minutes.
Wipe it off using a washcloth or sponge.
You will observe that your current acne is vanishing and new is not developing. You can store the strained tamarind in an airtight jar for 15 days. Use it twice a day for best results.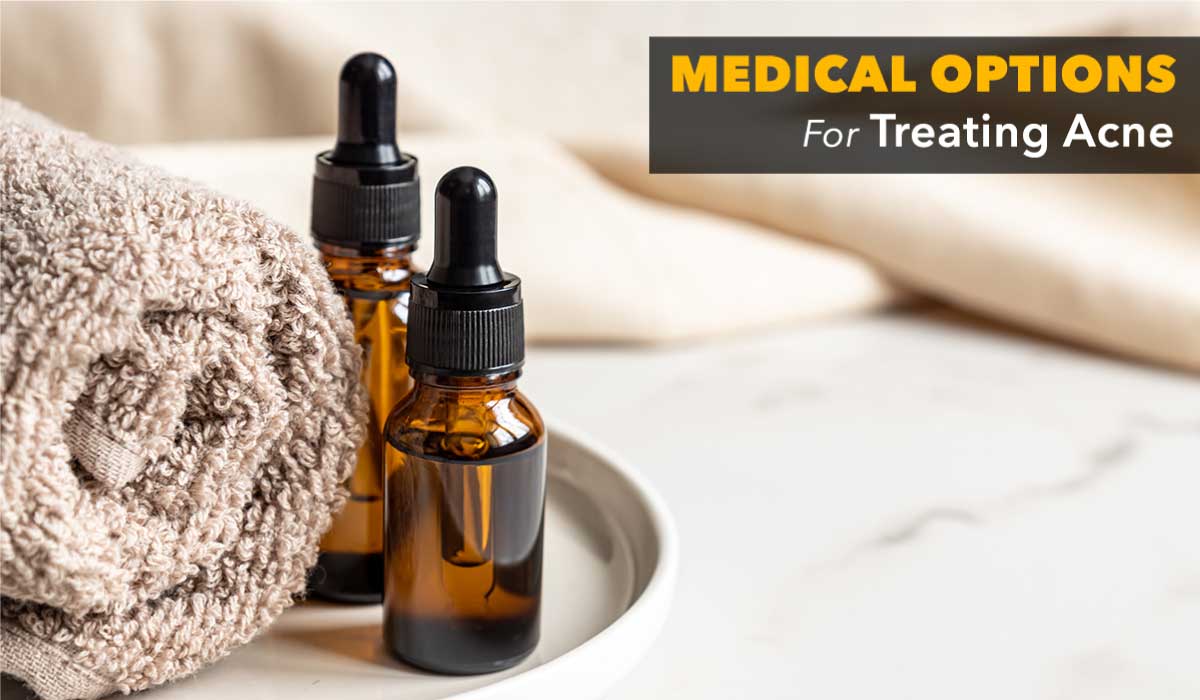 Medical Options For Treating Acne
All the home remedies work wonders with people with moderate acne. But, if you are someone with extreme acne, you need to take the medicated route.
There are some chemical extracts that are known for the reduction of acne. The remedies suggested above have these chemicals in them but in small amounts. For severe acne you would like to use some products which have the following chemicals:
Using products that have even one of these chemicals as an ingredient would work for people with heavy acne. Still, it is recommended to visit and consult a dermatologist before going on a routine.
Lifestyle Changes To Prevent Pimples
Without a doubt, acne is very common and genetic, but there are lifestyle changes that can better your situation. A few lifestyle changes here and there can give your skin a happy glow and help you say goodbye to acne.
Sleep well- essential for pimples and acne treatment at home
Having a beautiful sleep is not a myth. While you are asleep, your skin is at work. Your skin is producing new cells and trying to rejuvenate itself. Getting a good 8-10 hour sleep will prevent acne formation.
Like everything in the world, your skin needs a schedule and routine. You must have a nighttime routine for your skin. Never forget to cleanse your face well before falling asleep.
If you use makeup during the daytime, never sleep with makeup on at night. Cleansing, toning, and hydrating must be a crucial part of your skincare. Using an under-eye cream will help your eyes stay dark circle-free.
Eat well for acne treatment at home.
Acid-based foods promote acne formation. Avoiding dairy goes a long way in treating acne. Tea or coffee might be an integral part of starting your day, but they are harming your skin. You can switch to green tea for the beautiful skin you yearn for.
All-purpose flour (maida) can do serious damage to your skin too. Munching on chips and other fatty products is also hurting your skin. Spices are the biggest villain of your life if you want to fight acne.
Eating fruits and vegetables which are rich in vitamins should be your go-to food. Try eating dry fruits when you feel like munching. Your change in fooding habits will show instant results in your skin.
Using the right cleanser for acne treatment at home for dry skin
The biggest faux pas you are committing is using soap on your skin. Soaps have a high pH level, which will leave your skin irritated.
Using a face wash or cleanser is important. Face wash generally has a pH level close to your skin. There is a wide range of cleansers available in the market. You must choose it based on your skin type and needs.
At times people with dry skin concentrate more on moisturization than cleansing. Nevertheless, cleansing is one of the most essential parts of keeping healthy skin, so choose your cleanser wisely based on your skin type.
Using oil-free skincare products for acne pores treatment at home
One of the biggest causes of acne formation is the waxy fluid sebum formed by our skin. This fluid clogs your pores and leads to bacterial formation on your skin.
Oil-based or greasy skincare products will promote the formation of acne. While buying products, look for the ones which say 'oil-free. Instead, look for gel or water-based products. They help reduce acne formation and leave a cool feeling on the skin.
Hydrate, hydrate, and hydrate for instant acne treatment at home -h3
Staying hydrated is essential as it helps in the healing of the sores. It also promotes overall deceleration of acne formation. Dry skin can easily become irritated and is more prone to breakouts.
Increasing your water intake will also boost your white blood cells, which are called infection-fighting cells. The white blood cells fight and kill the bacteria, which is responsible for acne.
If you want to increase your water intake, setting an alarm might prove helpful. Drink 2 glasses of water (400 ml) right in the morning to give your day a head start.
Stress Reduction for scalp acne treatment at home
Stress is your body's response to physical, emotional, or mental challenges. It is your biggest enemy too. Stress leads to excess formation of oil in your hair follicles which leads to acne breakout.
Managing stress is important for your mental and physical health. Keep a healthy motivating company. Surround yourself with friends and family who challenge you.
Adopting a furry friend or a new hobby has proven successful in reducing stress.
Conclusion –
Cases of acne are common around the globe. Understanding your skin's requirements is an important step in healing it. Cleansing, toning, and moisturizing should be an integral part of your skincare routine. Tea tree oil, witch hazel, green tea, aloe vera gel, tamarind are all time tested friends of your skin.
Along with taking external care of your skin, giving it appropriate internal care is also a must. Eating healthy, getting good 8-hour long sleep, drinking water, and not stressing will show positive changes in your skin.
Frequently Asked Questions
u003cstrongu003eWhat are the tricks for deep acne scar treatment at home?u003c/strongu003e

It's essential to wash your face at regular intervals. Steaming your face at the end of the night will help open your pores. Tea tree oil has proven to be acne-reducing in nature. Do not use it directly on your skin. It's an essential oil and like all essential oils, it needs a carrier. It should only be applied to the affected area.u003cbru003e

u003cstrongu003eWhat are some instant acne treatments at home remedies?u003c/strongu003e

For quick acne treatment at home, use a mixture of witch hazel and olive oil on your skin. Witch hazel is usually used in astringents which are known to vanquish pimples and acne.u003cbru003eApplying tamarind extract to your face will also leave the face beaming. Tamarind is known for the reduction of acne, blemishes, and other spots and scars.

u003cstrongu003eWhat is the difference between acne and pimples?u003c/strongu003e

Acne is a systemic disease or infection, in which excessive sebum is formed in the body. Pimples on the other hand are a symptom of acne.

u003cstrongu003eShould I use a face scrub if I have acne-prone skin?u003c/strongu003e

Face scrub can prove helpful for acne-prone skin. Exfoliation leads to de-clogging of pores, which in turn leads to a reduction in acne. So, yes, if you have acne-prone skin, you can use a face scrub.