Who doesn't want thick, shiny hair? It may be as long as Rapunzel, or a cute pixie-like Audrey Hepburn, or the glorious curls of Jon Snow or Madhuri Dixit's crowning glory- our perception of beauty is always linked with hair. Alas, real life is rarely what we see on screen. For generations hair has been associated with hair growth oil as everything needs nourishment to grow and stay healthy. In this article we are sharing some of the best hair growth oil in India for men and women.
Why do you need the best hair growth oil in India
We lose 100-150 strands of hair every day. (1) This increases as we age, get more exposed to pollutants, stress out, use harsh hair products or style it more. The result is thinning out of hair and a subsequent depression regarding our own beauty. Therefore, It is important that we take care of our hair, and try to nourish our hair and scalp as often as possible.
Choosing a good hair oil is crucial to our hair-care routine. If you want thick and shiny hair, you must know what oil to use to control hair fall and regrow hair.
Which is the Best Oil for hair growth and thickness?
Most people rely on anecdotal evidence to choose the hair oil they use. While it is possible to get lucky and find the right product that suits you, it is good to know if anecdotal claims have any scientific basis.
The best oil for hair growth and thickness should condition hair and scalp, prevent hair fall, encourage hair growth and nourish hair follicles and shaft.
Here are some hair oils that are proven to be effective: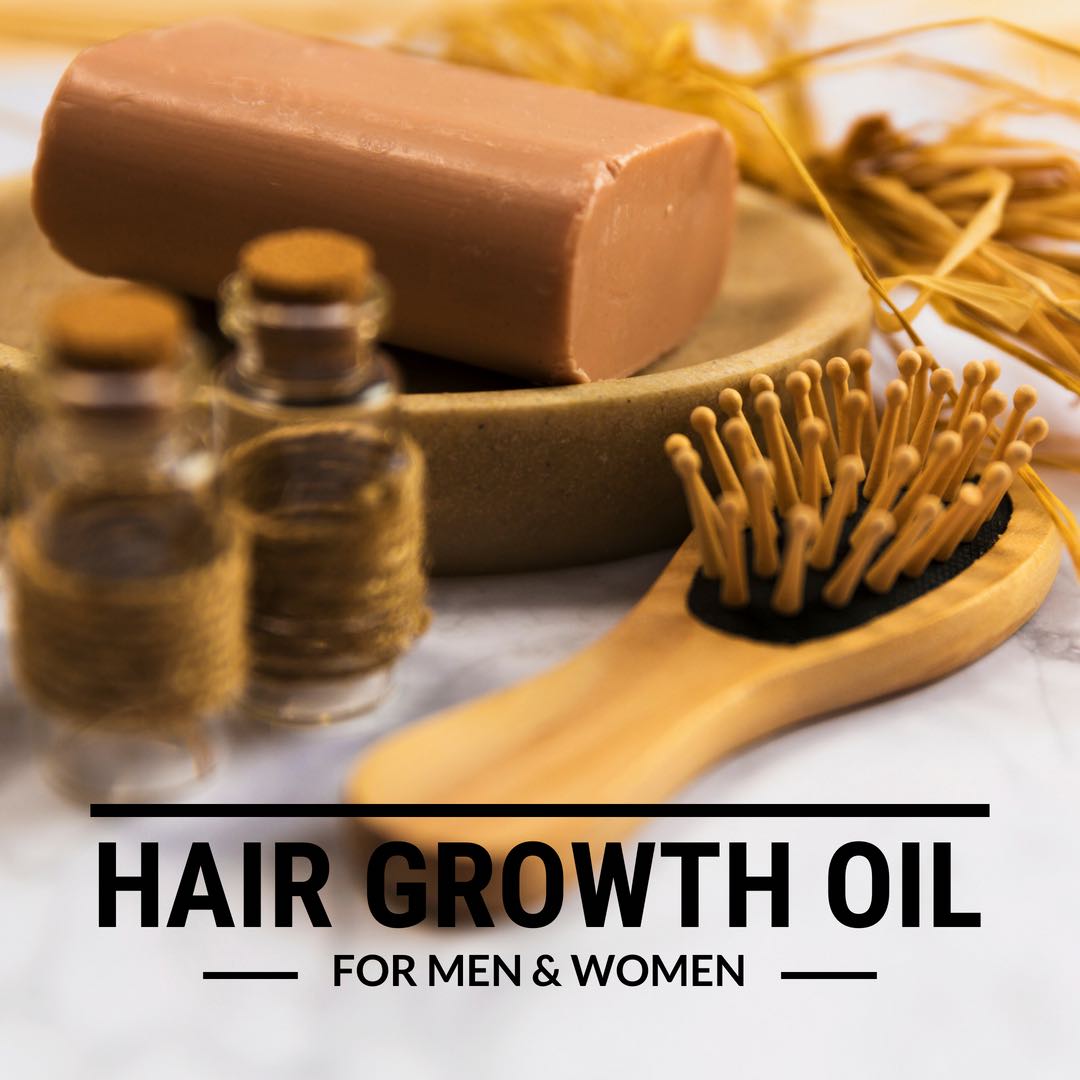 Best hair oil for hair growth
1 Coconut oil: Best hair oil for hair growth and thickness in india
There is overwhelming evidence proving the effectiveness of coconut oil in healthy hair and scalp. Studies show that coconut oil is excellent at nourishing hair and effectively stops protein loss.
Coconut oil is a triglyceride of lauric acid (principal fatty acid). The oil has a high affinity for hair proteins and can easily penetrate inside the hair shaft and nourish hair. Evidence shows that people who use coconut oil before and after shampooing have much healthier and thicker hair than those who don't. (2)
2 Lavender oil: Best oil for Hair Loss
Lavender oil is not that common in India. It is mainly known for its aromatic properties and mostly used in perfumes and air-fresheners. It is also expensive.
However, studies show that lavender oil is quite useful in preventing hair loss and regrowing hair. Experiments on mice showed that application of lavender oil results in the growth of more hair follicles and deepening of hair roots. This results in thicker and stronger hair. (3)
3 Peppermint oil: Best oil for Hair Regrowth
We mostly know peppermint as a flavouring agent and for its use in the kitchen. However, it also has many medicinal values and is great as a hair growth stimulant.
Scientists say that peppermint oil is as good as lavender oil in aiding hair growth and forming of new hair. Topical application of peppermint oil increases the formation of hair follicles, stimulates hair growth and deepens hair roots. This means you get long, thick and strong hair. It is particularly well suited for people with oily scalp. (4)
4 Tulsi oil: Best Hair oil for Hair Loss
Tulsi or holy basil is a member of the mint family. Plants from the mint family are well known for their medicinal properties. Tulsi's anti-microbial properties are well established. It is very useful for fighting fungal and bacterial infections. (5)
It should be remembered that hair health is directly related to the skin condition. Skin produces sebum, the oily substance which maintains the natural oil balance of the hair. If you have any skin condition like dandruff, psoriasis or fungal infections, chances are you will suffer from baldness or severe hair loss. Application of oils rich in anti-microbial agents helps reduce infections and keep the skin healthy, which prevents hair loss and enables hair growth.
Menthol oils are also known for increasing blood circulation. Studies show that topical application improves local blood flow. (6) So, if you apply an oil like tulsi or mint on your scalp and gently massage it in, it will increase blood circulation to hair roots and encourage hair growth.
5 Almond oil: Hair oil for Long Hair
Almond oil is excellent for growing hair. Applying almond oil is right for your skin and hair. It has been used since long in traditional medicine for treatment of eczema and sclerosis. Almond oil is excellent for treating dry skin. (7)
Evidence exists that topical application of almond oil soothes and moisturises the scalp. So if you want to have long and shiny hair, almond oil should be on your list. (8)
6 Amla oil: Hair care Oil
Amla or Indian gooseberry is pretty much a miracle fruit. Amla oil has been used in Ayurveda for a long time for nourishing hair. It is the most abundant source of vitamin C, has many essential minerals like iron and zinc, is full of anti-oxidants and other nutrients.  (9)
Amla is a wide-range antibiotic and application of amla oil has shown to fight a wide range of skin and scalp problems. It is an excellent hair tonic. (10)
You can make your own amla oil at home by mixing amla powder with coconut oil or boiling amla in coconut oil or directly applying the juice from crushed amla to your scalp.
7 Castor oil: Best Hair Oil for Hair Growth in India
While there is no conclusive scientific evidence to show that castor oil promotes hair growth, many people provide anecdotal evidence of its effectiveness. However, castor oil does have many properties that can be good for hair growth.
Studies show that vegetable oils like castor oil are better at penetrating hair shafts and healthy hair than mineral oil. (2) Moreover, castor oil has anti-microbial properties which makes it useful in fighting skin diseases, heal wounds and repair scar tissue. Application of castor oil may keep scalp healthy and infection free. (11)
Related Aticles
Best Hair Oil for Men in India
"Special skincare for men" products are very popular these days. While human skin is the same for everyone, there are many internal factors that influence skin and hair physiology. Scientific evidence shows that these differences can be attributed to skin pH levels, hormones and dermal thickness. (12)
However, there is no reason why hair oils that women use will be ineffective on men. Men can use the same self-care routine for beards and hair on their head. While the texture of body hair is different than that of cranial hair, they are essentially the same and require the same nourishment.
Men have more body hair than women, but they are also more prone to alopecia and baldness in their scalp. (13) Hence, it is good to go for gender-targeted treatment when dealing with skin and hair problems.
Always remember that alopecia or baldness is a disease. Men and women require different medications for it, as treatment often involve the use of hormones. Please consult a doctor if you have baldness, eczema or psoriasis. If your hair loss is related to some other factors, it is better to ask for medical help than engage in self-medication or cosmetic procedures.
How to choose the best hair oil for men in India
Oil and condition your hair (or beard) at least twice a week. Make sure you buy your hair products from reputed brands. Take your choice of oil, apply it on your scalp and massage gently. If you have an oily scalp, do not leave it in for more than two hours. Otherwise, leave it overnight and then wash with a mild shampoo.
People with dry or curly hair should condition their hair more. Coconut oil is the go-to oil for your hair conditioning needs. Apply oil from root to tip and leave it overnight. Wash your hair at least twice a week to avoid sweaty scalp and greasy hair.
Be sure to condition your hair after washing it. Keep it clean to avoid tangling. Dust and pollutants make hair dry and brittle and may lead to scalp infections. However, do not shampoo every day, because that strips the hair of essential oils and makes them prone to breakage.
Best hair growth oil for man in India
Now that we know about what oils are good for us, let us look at some of the brands that make the best oils for hair growth in India.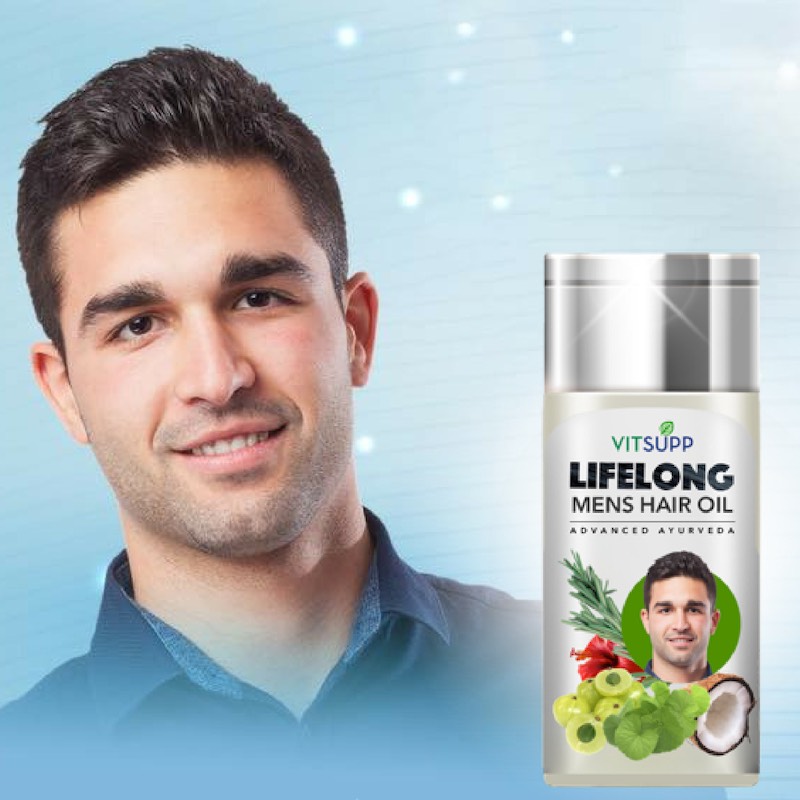 LifeLong hair oil for men is an advanced hair growth ayurvedic oil that is totally natural and free from side effects. It contains Brahmi, neem, bhringraj, rosemary, camphor, aloe vera, methi and other natural ingredients that make your hair thick, shiny and healthy.
The base is of coconut oil, which is proven to be the most effective natural oil for enhancing the quality of your hair. VitSupp Lifelong Hair Oil fights all common hair problems- hair fall, frizziness, dryness, dull hair, itchy scalp, dandruff, premature greying and damage from pollution.
The natural active agents in the product ensure that your hair and scalp get all the nourishment they need and makes your hair grow visibly longer in just a few weeks. It also helps prevent scalp infections. The antibiotic properties of the natural ingredients protect and heal your scalp from problems like psoriasis and other infections.
You can also use it as a great stress reliever- as VitSupp Lifelong Hair Oil has a cooling and soothing effect on your scalp. Massage it in for five minutes, and feel all your worries melt away. Needless to say that it is the best ayurvedic hair oil for hair growth.
Satthwa hair oil
Satthwa hair oil claims to be the best hair fall control oil in india. It argues that it helps hair grow faster and promotes new growth with regular application. Satthwa contains olive, coconut, castor, amla and almond and is full of vitamins and minerals. Buy it here.
Khadi Natural Lavender Essential oil
If you want to go for pure oils, there is no alternative to khadi. Khadi Natural is affiliated to Khadi and Village Industries Commision. All their products are organic, cruelty-free and government approved. Khadi Natural Lavender Essential oil is one of the best essential oils for hair growth and thickness in India. Buy it here.
Bajaj Almond Drops hair oil
Bajaj Almond Drops is the most popular brand in the most popular brand in the almond oil category. It is light, non-sticky and has a sweet smell. There is ample anecdotal evidence that says that it almond oil is the best oil for fast hair growth. But it here.
Trichup Hair Fall Control oil
Trichup hair fall control oil is enriched with the goodness of herbs like bhringraj, amla and neem. It contains coconut and sesame oil. Trichup hair fall control oil nourishes hair follicles and stimulates the scalp to promote fresh hair growth. It is the best hair oil for hair fall control and hair growth. Buy it here.
Pure & Sure Organic Coconut oil
Phalada Pure & Sure Organic Coconut is an all-purpose oil. It is 100% organic and pesticide free, and is cold pressed to retain its nutrients. It is one of the best hair oil in india. Buy it here.
Himalaya Anti-Hair Fall Hair oil
Enriched with the goodness of amla and bhringraj, Himalaya Anti-Hair Fall hair oil prevents hair fall and promotes hair growth. It strengthens hair shafts and prevents breakage. It is one of the best anti hair fall oil. Buy it here.
Kama Ayurveda Peppermint Essential Oil
This is a 100% organic product, and has a strong minty aroma. It increases blood circulation to hair roots while decreasing scalp and hair greasiness. Kama Ayurveda Peppermint Essential Oil is especially good for the oily scalp. It is one of the best ayurvedic hair oil. Buy it here.
Biotique Bhringraj Oil
This is an active hair fall solution which contains bhringraj and amla processed in coconut oil. Biotique Bhringraj Oil conditions the scalp and strengthens the roots. It is one of the best oil for hair fall. But it here.
Parachute Coconut Creme oil
If you are looking for a good oil for hair, then Parachute coconut hair oil could be a good choice. Parachute is one of the oldest and most visible hair oil brands in India. Parachute Coconut Creme Oil contains both coconut oil and coconut milk, which makes it light and moisturizing. Buy it here.
Kesh King Ayurvedic Medicinal oil
Kesh King Ayurvedic Medicinal Oil is a proprietary medicine, which is effective for preventing hair loss. It contains the goodness of 21 herbs processed in sesame oil. It is one of the best ayurvedic hair oil for hair loss treatment. Buy it here.
Order the hair oil of your preference and start with your hair care routine today.
FAQ's
Q1 Which oil is best for hair growth and thickness
Most people rely on anecdotal evidence to choose the hair oil they use. While it is possible to get lucky and find the right product that suits you, it is good to know if anecdotal claims have any scientific basis.
The best oils for hair growth and thickness should condition hair and scalp, prevent hair fall, encourage hair growth and nourish hair follicles and shaft.
Here are some hair oils that are proven to be effective:
References