Taking good care of your teeth is imperative. Chewing and biting the food you consume happens to be one of the first steps of digestion so that in itself is an indication of how important our teeth are. If you happen to reside in Hyderabad and are planning a visit to the dentist, then this article is exactly what you need. We've made a list of some of the best dental hospital in Hyderabad.
Make sure you get a dental check-up lined up, whether or not you have an oral issue. Sometimes, a visit to the dentist can highlight any underlying issues as well.
The Best Dental Hospital in Hyderabad
What are the best dental clinics in Hyderabad?
1. FMS Dental Hospital: Best dental hospitals in hyderabad near gachibowli
State of the art infrastructure meets expert dental health professionals at the FMS Dental Hospital in Hyderabad. This particular clinic has won numerous awards, some of it being-
1. Best Dental Practice of the Year – International Award of Excellence, London – 2018,
2. Best Aesthetic Practice of Year – International Award of Excellence, London – 2018,
3. Best Hospital for Dental Tourism – 2017.
FMS Dental Hospital also has a GCR rating of being the second-best dental care centre in the world!
They provide 24-hour dental medical service, so there is a large team of healthcare professionals to address your dental woes at all times.
You can benefit from a variety of dental services like dental implants, cosmetic dentistry, laser gum therapy, cosmetic jaw surgery, and child dentistry. You can avail basic dental procedures like teeth whitening and root canal as well. FMS Dental Hospital is also a great choice for dental tourism, so it attracts a lot of international patients and NRIs too.
Address: Door No. 8-2-293/82/A/725, Road No. 37, Hitech City Rd, Near Daspalla Hotel, CBI Colony, Jubilee Hills, Hyderabad, Telangana 500033
Phone: 088850 60770
Website: https://www.fmsdental.com/
2. The Dental Specialists: For best dental treatment in hyderabad
The Dental Specialists was first established in 2007 in Banjara Hills. They now have two branches in Hyderabad. The Dental Specialists comprise of a group of professional dental experts, who specialize in various dental procedures like root canal treatment, tooth extraction, fluoride stain removal, zygomatic implants, basal implants, and gum treatments.
Founded by Dr. Venkat Ratna, The Dental Specialists has catered to the dental needs of over 10,000 patients since its inception.
Address: 8-2-598/A/1, Gaffar Khan Colony, Near Star Hospitals,, Road No 10, Banjara Hills, Hyderabad, Telangana 500034
Phone: 040 2335 0991
Website: https://www.thedentalspecialists.in/
3. Smiline: Best dental clinic hyderabad telangana
If you're looking for some high-quality dental care, then Smiline is the place to go. They provide various dental services like dental implants, child dentistry, root canal treatments, and more, performed by a team of endodontists, prosthodontists, orthodontists, pedodontists, and oral surgeons.
One of the top hospitals to provide Hi-tech dentistry, Smiline is located in Hyderabad's Madhapur, a convenient and prime location.
Address: Plot No. 4, Matha Bhuvaneswari Society, Hitech City Main Rd, Khanamet, Madhapur, Hyderabad, Telangana 500084
Phone: 040 2980 4422
Website: https://www.smiline.com/
4. Shambala Dental Spa: Best cosmetic dental clinic in hyderabad
We've all heard of spas, but have you heard of a dental spa? Well, Shambala Dental Spa is one such spa that is a real game-changer in the field of dentistry. It is a general dental office as well as a new age cosmetic spa centre, that provides hi-tech, modern dental services.
In addition to providing dental services, Shambala Dental Spa also provides spa treatments. The idea behind this is to make their patients at ease and to remove any qualms they might have about undergoing a dental treatment.
Address: Colony, 8-3-978/3, Flat No.201, Nalamada Apartments, Above Bigbyte Bakery, Srinagar, Hyderabad, Telangana 500073
Phone: 091772 67979
Website: http://www.shambhalagroup.com/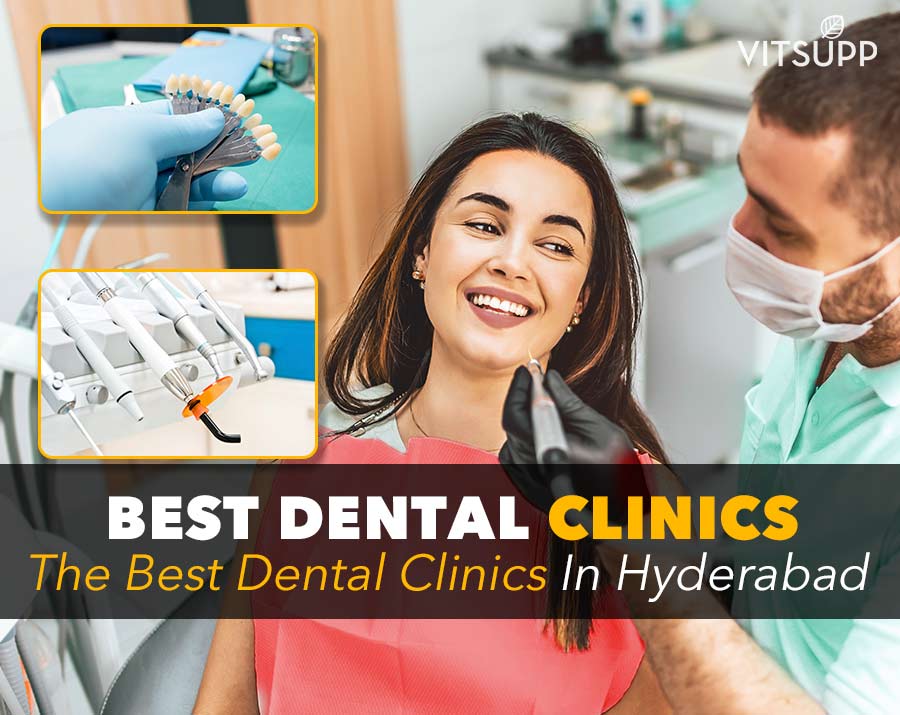 5. Eledent Dental Hospital: Best dental hospitals in madhapur hyderabad
Eledent Dental Hospital is one of the most sought-after dental centres in Hyderabad. It is a fully-equipped dental clinic with facilities like dental chairs, digital x-rays, chairside HD monitors, intraoral cameras, dental handpieces, and various maintenance units.
One of the reasons why this dental hospital is a preferred choice is that it provides some of the best, world-class treatments at affordable rates. Eledent Hospitals has a team of expert healthcare professionals who specialize in various dental services like child dentistry, cosmetic dentistry, child makeovers, and general dentistry.
Address: K1 Primo Building, 3rd floor, Above Ratnadeep Super Market, Kondapur Bus Stop, Hyderabad, Telangana 500084
Phone: 077996 39994
Website: https://www.eledenthospitals.com/
6. Winning Smiles
Established in 1999, Winning Smiles is one of the top dental clinics in Hyderabad. They have a sophisticated well-equipped infrastructure, with some of the most specialized doctors, who happen to be some of the best dentists in Gachibowli.
Winning Smiles provides various dental procedures that include general dentistry, cosmetic dentistry, laser dentistry, orthodontics, Invisalign, dental prosthetics, and children's dentistry.
Address: Hig B1 Aphb colony Opposite DLF Building Gate no 2 Lane next to Redisson Hotel, Gachibowli, Hyderabad, Telangana 500032
Phone: 098490 33141
Website: https://www.drwinningsmiles.com/
7. Focus dental care: For best dental care in hyderabad
Located in Hyderabad's Gachibowli, Focus dental clinic is as much one of the best clinics in Gachibowli as it is one of the best clinics in Hyderabad!
With a loyal customer base of more than 15,800 happy patients, Focus Dental Care has also been a recipient of several awards.
Focus Dental Care provides various dental services and specializes in general dentistry, cosmetic dentistry, and preventive dental care.
Address:  Millennium Square Building, Above Ratnadeep Supermarket, Near Biodiversity Park Junction, Gachibowli, Hyderabad, Telangana 500032
Phone: 096031 72172
Website: https://www.focusdentalcare.com/
8. The Tooth Company: For Best dental doctor in hyderabad
What sets The Tooth Company apart is the efforts they have put in to make you feel at peace every time you have an appointment with the dentist. Most people are skeptical about their dental appointment but with The Tooth Company, you have nothing to worry about.
A few examples of this are indoor plants that are approved by NASA, which ensures fresh air within the clinic. Further, they have gone to great extent to ensure that there is no radiation within the walls of the clinic. Also, their dental chairs are ultra-modern with inbuilt audio-visual entertainment equipment offers out and distract you from any drilling that the doctor might be performing!
The Tooth Company provides a variety of services, right from the most basic like teeth cleaning and maintenance to smile makeovers, dental implants, pediatric dentistry, aesthetic dentistry, and root canal treatments.
Address: Metro pillar no. 30, 789, Rd Number 36, Opp. Taruni store, CBI Colony, Jubilee Hills, Hyderabad, Telangana 500033
Phone: 073308 13013
Website: https://thetoothcompany.in/
9. GA dental clinics: For best dental surgeon in hyderabad
We're well aware of how the entire world is turning digital. The same can be said about GA dental clinics as well. Their claim of being a digitally powered dental clinic is validated with the latest equipment and advanced technologies that they have.
GA Dental Clinic provides 24-hour service, so it doesn't matter if your teeth give you trouble even in the middle of the night. They have a team of specialized doctors are constantly available to take care of your dental issues.
GA Dental Clinic offers various dental services like root canal treatment, teeth extraction, teeth whitening, and preventive healthcare check-ups. They also have specialized endodontists, periodontists, and dental surgeons.
Address: #1, Banjara castle, Road No.12, Banajara Hills Opp. ELBIT Diagnostics, Diagonal to Century Hospital, Hyderabad, Telangana 500034
Phone: 095054 43330
Website: https://www.gadentalclinics.com/
10. Clove dental: cheap and best dental hospital in hyderabad
With more than 300 dental clinics all over India, Clove Dental is definitely a well reputed dental care centre. Since it's inception, Clove Dental has served over 6,00,000 patients, offering various dental services like dental fillings, root canal treatments, wisdom teeth removal, braces and aligners, dental implants, bridges, crowns, dentures, teeth whitening, smile makeovers, and child dentistry.
Clove Dental has over 870 doctors working across various dental specialities. They also have some of the latest technologies and equipment. Most of the procedures are up to date, keeping up with the most advanced innovations in the dental world.
Address: 3-6-274, 1st Floor, Apurupa LN Chambers, Near Telugu Academy, Himayath Nagar, Hyderabad, Telangana 500029
Phone: 082879 28325
Website: https://clovedental.in/
11. HDental: best dental hospital in kukatpally hyderabad
HDental provides its expertise in the field of dental implantology. The Hospital offers high-quality services such as digital sime designing, aligners for tooth movement, ceramic braces, needleless digital anaesthesia, Laser cleaning Microscopic root canal treatment and Zoom teeth whitening.
Address: #303,3rd Floor, Fortune Signature, Nizampet X roads, Hyderabad-500072.
Phone: +91 89095 69999
Website: www.hdental.in
Things to keep in mind before you go to the dentist
You could be a regular visitor to a dental clinic or someone who goes only in the case of a dental issue. But no matter which bracket you fall under, there are a few things that you need to keep in mind before you go to the dentist. These are listed below:
Always ensure that you have made a prior appointment. This way you can avoid confusion and save time for both you and your dental healthcare provider.
If you have changed your dentist, make sure you carry your dental medical history along. If possible, you can transfer your dental records beforehand from the old clinic to the new as well.
Make sure you brush your teeth and floss well before you visit your dentist. This can help avoid an uncomfortable situation.
Always be on time for your appointment. This way, you won't waste the time of the doctors and keep the other patients waiting, you can also avoid rushing in and feel stressed.
Feel free to discuss all or any dental problems you might be experiencing. Some times, people are embarrassed to do this. For example, some people who suffer from bad breath, shy away from expressing their concerns. Your dentist is here to help, so be open about what is troubling you.
Keep all the information that you might need, at the tip of your fingers. By this, we mean your medications, any dental insurance or health insurance you might have, and any reports that are required.
These things don't just prepare you for a good dental care experience, it also makes it much easier for the dentists, who will definitely appreciate you.
Signs that you are due for a visit to the dentist
Getting a regular dental check-up is extremely important. If you haven't got one in a long time, fix an appointment at the earliest. In fact, everyone should have a routine dental consultation at least once in every six months. Listed below are a few signs that you are due for a visit to the dentist:
You experience sudden pain or swelling in your mouth, particularly around your teeth. This can include your face, jaw, and neck as well.
Off late, you have been a victim of bad breath.
You experience bleeding every time you brush of when you happen to floss your teeth. This could also be a sign of an underlying health issue.
One of the signs of a healthy mouth is good lubrication by saliva. A dry mouth , on the other hand, is a sign of trouble.
Your gums seem to be receding. This can happen to an area around just one particular tooth as well.
You have been experiencing a sudden toothache. While this is an obvious reason, it can be caused due to various teeth issues like a cavity, a broken tooth, an abscess, or a damaged filling.
You find that there are sores or bumps along your gums. Some people experience canker sores, which are quite common. They disappear after a week or two. However, there is also something known as thrush that you need to be aware of. This needs medical attention.
One or more teeth seems to be with loose or shifting. In most cases, gaps or shifting of teeth takes place in the case of bone loss or infection.
Conclusion
For some people, a visit to the dentist can be a source of anxiety or fear. Others worry a lot about the kind of dentist that will be working on their teeth. All these fears will be put to rest if you know for a fact that you are under the care of some of the best dentists in town. We hope that this list helps you on your next visit to the dentist. So go ahead and make that dental appointment at the best dental clinics in Hyderabad right now!