If asked what is that one appliance that every homeowner must-have, the apparent answer comes in the form of washing machines, gone are the days when people used detergent bars for washing clothes.
Nowadays, when you are about to buy a washing machine-  whether it's for your new home or for replacing the old one, the number of choices available in the market is overwhelming.
So here's a brief guide to walk you through some of the best choices of washing machines available in town.
How to Choose a Washing Machine
With a large number of brands, models and types, it could be overwhelming to choose the best washing machine in India for you and your family. Here are a few things that will help you learn how to select a washing machine:
 Here's a brief list of factors to check for:
1 Check the wash settings
Nowadays the machines come with a varied range of wash settings. From gentle wash to delicate wash to soak wash, there are various types of wash settings available, which come with multiple controls like rotary, touchpad or touchscreen panels.
2 Tub materials
Plastic, porcelain, stainless steels, enamel and many more types of tub/drum materials are available in the market.  Plastic is the most cost-effective variant. However, in terms of durability and high spin speed, stainless steel tub gives the best performance.
3 Spin cycles
The spin cycle is the measurements of the drying speed of the machine in terms of rotation per minute. The general rule states the higher the spin cycle, drier the clothes. However, the spin cycle mostly depends on the nature of cloth fabric.
4 Temperature control
Machines with in-built water heaters help in controlling the water temperature better. Besides, hot water helps with better cleaning. Some of the best selling brands have hot water control.
5 Pre-soak control
Another advanced feature found in some of the best-sellers is pre-soak control, which helps to soak wash in energy-efficient mode.
6 Types of Washing Machine
Now depending on the position of loading, washing machines are of two types
6.1 Top Loading Washing Machine with Heater or Without Heater
Here the flap to load and unload the clothes is located on the top of the machine.
The perks of using a fully automatic top loading machine are that you don't have to bend while loading or unloading the clothes.
6.2 Front Loading Washing Machine with Heater
In front-loading machines, the flap or lid for loading or unloading of clothes is located at the front of the washing machine.
As for as the functioning/usability is concerned, studies show that the front loader type consumes much less electricity, energy, water and even detergents and provides better cleaning than the top loader types.
7 Technology
The top loader types can be divided into the semi-automatic top-loading type and automatic top loading washing machine.
7.1 Semi-automatic washing machine with Dryer
In the semi-automatic model, there are two separate vessels for the washing and drying activities. Thus the timer enabling washing and drying times are also separate.
7.2 Fully automatic washing machine
Here there is only one vessel for washing, rinsing, drying and other purposes.
As there are several factors to consider when it comes to hitting the right pick here's a brief overview on some of the best selling washing machines in India.
Listing of The Best Washing Machine in India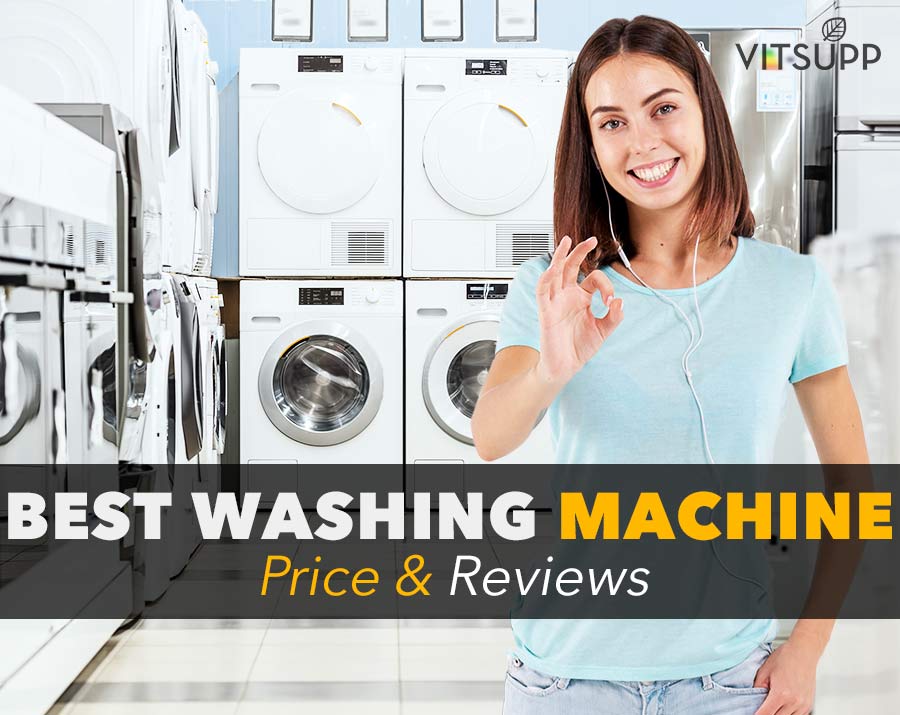 The following list is given along with reviews, pros and cons of some of the best picks in washing machines in India.
1 Samsung Fully Automatic Washing Machine: 6.5kgs WW65M206L0W/TL
At present, if you search, LG and Samsung will be the two brands monopolising the Indian market.
But when it comes to choosing the machine which has comprehensive features as well as power-saving technology, Samsung fully automatic front load 6.5 kg model turns out to be the best pick. Coming with its inverter technology motor, this machine draws less amount of power and has almost no noise.
The pros of this model are:
Fully inverter on motor technology
Extremely energy efficient
Creates virtually little to no sound
Presence of a diamond drum vessel which is exceptionally gentle on clothes yet extremely useful in cleaning
Presence of hot water wash option because of its inbuilt heater
In-built device protection to protect from power surges and voltage fluctuations
Presence of Samsung's unique silver wash technology to eliminate bacteria and other microbes
For handling a wide variety of clothes this machine comes with several pre-program to wash cycles
A warranty of 10 years
Presence of LED touch panel
Extreme low requirement for water
Sleek in design
The cons of this model
As this model is the first in its kind of technology, it means it is difficult for your traditional mechanics to fix in case of repairing
The maximum possible RPM in this technology is not yet market-ready
Always remember that the higher the RPM the dryer your clothes will come out. Albeit this sounds good, but in reality, it is not suitable for the fabrics
this model doesn't come with any counter technology to balance hard water or extreme low pressure of water
The highest RPM can reach up to 1000 while the ideal cloth weight is 6.5 kg
Available on Amazon.
2 LG Fully Automatic Washing Machine 7kg, Top Loading Type, T8081NEDLJ
Now, as mentioned already, LG and Samsung have been the two leaders in washing machine technology in the country. And it is an industry-proven fact that LG washing machine comes with the sturdiest of motors.
The pros of this model are
The capacity of 7 kgs- ample for average Indian families
A fully automated Toploader variant
Comes with its smart inverter technology hence makes little to no noise
Two years of warranty on the product with ten years of warranty on the motor
Presence of the turbo drum feature enables the drum to rotate in the opposite direction to the pulsator, and thus the toughest of dirt are removed, giving you the best cleaning
For ensuring an even washing experience, this LG model comes with punch +3 functionality which creates water stream in both vertical and horizontal direction
Child lock features
Auto-restart option
Smart doors
Smart diagnosis with stainless steel drum
For maintaining a sterile inner and outer tub, tub clean features
The cons
Absence of hot water technology
Available on Amazon.
3 Bosch Fully Automatic Washing Machine: Bosch Washing Machine 7kg – WAK24168IN
The global leaders in front loader washing machine technology is Bosch.
The pros of this model are
Ideal weight carrying capacity for average Indian families 7- kgs
A completely automatic front-loading type of machine
The highest spin of 1200RPM
Comes with two years warranty on the product and ten years of warranty on the motor
The excellence of German engineering
Presence of active water technology that enables multiple load sensing analysing the water requirement as per the load and type of cloth
Presence of innovative anti-vibration design for more excellent stability
Smart adjusting technologies even at the extremely low water pressure of 0.3bars
Presence of Variodrum feature which enables even distribution of water and detergent resulting in a comprehensive yet gentle overall cleaning.
Presence of smart reload feature which allows you to open the door of washing machine and add more clothes in case you want
Operating capability at low decibels even up to 49 decibels
A large drum with unique features that enables cleaning and disinfection of the water by removing the toxic residues
Child lock
Water filter feature for limestone or hard water toxicity
Voltage AC features to maintain voltage fluctuations and power surges
Also, the unique ability to resume the water cycle in case the cycle has been force stopped due to a power cut
The cons of this machine
Although this German-made machine doesn't come with much of cons; however, the installation for this machine takes time.
Available on Amazon.
4 IFB Fully Automatic Washing Machine: Top Loading 6.5kg, TLRDW 6.5Aqua
Another leader in the international market of the washing machine is IFB. In the Indian market, their fully automatic top load 6.5 kg model has been the latest pick for the millennials. What makes this device so enticing is an IFBs unique eight wash program for super cleaning of your clothes.
The pros are
A fully automatic top loader variant
The capacity of 6.5kg which is sufficient for average families
A maximum spin speed of 720 RPM
LED displays
Four years of warranty both on the product and the motor
Eight water levels for maximum cleaning
Innovative Triadic Pulsator Cleaning Program for magical cleaning which goes easy on the fabrics while Triadic Pulsator soft scrub goes all sturdy on tough stains
Presence of mechanical centre punch action for effective cleaning
Powerful small jets that enable waters to splash for dislodging dirt
Presence of unique Aqua spa therapy for a comprehensive hydrating, cleaning, rejuvenating therapy on your clothes
Aqua engine delivery water for a soft wash
While the presence of 3D wash technology ideal for laundry soak wash
Environment sustainable aqua conserve facility to save the rinse water for soak wash in the next round
To preserve the presence of the fabric of crescent moon grooves
Auto balance to maintain the consistency and balance of clothes in the washing cycle
Customised as per the Indian market with the voltage fluctuations technique to maintain the balance of voltage and stop the wash cycle in case of extremely high power surges
Presence of bubble leveller to maintain the balance and stability of the machine and increasing the lifespan
Highly energy efficient
The cons of this device
Lack of hot water wash features.
Sometimes due to lack of ample showrooms there occurs issues with after-sales services
Available on Amazon.
5 LG Washing Machine Semi-Automatic 6.5 kg
In case you are thinking how come a comparatively older technology is coming in the list of best in class washing machines then note that fully automatic washing machines require a lot of water and continuous water supply.
For the Indian scenario, the luxury of continuous water supply or high water levels is not available in every area. For those areas, a semi-automatic variant where you can control the amount of water going into the machine is the best pick.
The pros of this model are:
Semi-automatic top-loading variant
Optimum capacity of 6.5 kg ample for average Indian families
The spin speed of magnanimous 1300 rpm
Comprehensive three wash program
Presence of spin shower to wash off all soap residues
Two years of on-product warranty
Presence of roller jet pulsator for faster rotation
Presence of three different washing programs for any fabric
Customise for Indian markets with 3 mm thick plastic body completely rodent proof
Presence of unique drying features that hasten up the drying process by 40%
Presence of collar scrubber that saves your time by removing the stubborn collar strains
The cons
The biggest con for a semi-automatic variant is the human labour and time it requires for changing the water and the soap
Available on Amazon.
6 Whirlpool Washing Machine 7kg – Semi Automatic Top Loading Variant
The first washing machine in the line of a domestic washing machine was manufactured by whirlpool. Over the decades, the company has been able to hold that position in the market of washing machines.
Thus when it comes to buying washing machines, the first name that pops up along with LG and Samsung is Whirlpool. The semi-automatic variant is a perfect choice for areas with water issues.
The pros of this product are
Fully semi-automatic variant
The capacity of 7kg is giving higher clothing loads than competitor models
The RPM spin going up to 1450 RPM
Presence of 3 wash programs
A warranty of 2 years on the device
Presence of waterproof, shockproof panel
Presence of scrubber with easy to use hassle-free technologies
The sturdy, powerful motor of 340W
USP of this product is the sizeable 66-litre capacity tab the largest
Presence of multi-utility tray for sorting clothes, carrying them, putting detergent etc.
The multi-utility tray comes with vents that allow seeping of water into the tub
Presence of Unix super soak technology that can continuously soak and scrub the clothes for 25 minutes straight
Built-in scrubber and a lint collector
Built-in memory chip for power saving and restarting the device in case of accidental power cuts
The cons
Doesn't cut off the water supply automatically
More labour
Available on Amazon.Whirlpool 7 kg Semi-Automatic Top Loading…
7 Whirlpool Washing Machine Top Load Fully Automatic – White Magic Elite
Not only in the semi-automatic genre but also in manufacturing the fully automatic variants that Whirlpool has established its expertise. This model is designed with features for a regular Indian household.
The pros
The ability to wash clothes in hard water
Can work at low water pressure, as low as 0.17 bar
Presence of agitator instead of regular pulsator to create powerful scrub technology for a formidable cleaning
Presence of unique spa system to detangle clothes
Smart sensors to adjust water levels, detergent levels etc
Intelligent sensors for voltage adjustment and lint adjustment as well
Cons
Use of agitator causes tangling of clothes, which the adding of spa technique doesn't improve considerably
Available on Amazon.
8 Haier Washing Machine Review of 5.8kg: Best Fully Automatic Washing Machine
If a budget pick is your need don't look anywhere else. This Haier top-loader type is your ideal choice.
The pros
Budget pick
Ideal for medium-ranged dirty clothes
Multiple washing options for different modes like spin, gentle, jeans, quick wash and standard
Fuzzy logic control which smartly detects the load of clothing and requisite time and water for washing
The spin speed of magnanimous 1000RPM
Two years of warranty on the device with a 5-year warranty on the motor
Smart detectors to choose the water levels
One touch screen facilities
The cons
Absence of temperature control
Available on Amazon.
9 Lloyd: 7kg full automatic front-loading types
Lloyd has been transforming the laundry industry over the years with its innovative technologies. This 7kg fully automatic front load variant is the best offered by Lloyd.
The pros
7kg of huge capacity ample for Indian families
Five years of motor warranty with two years of device warranty
Smart sensors for load imbalance
Ease of adding clothes in mid cycle
Soak wash technology
LCD
The cons
Absence of in-built invertor
Lack of hot water technology
Lack of intelligent technologies to work in low water pressure and hard water etc.
Available on Amazon.
10 Godrej: 6kg fully automatic washing machine
The most trusted brand in terms of sturdiness and performance and a hit pick among bachelor's and couples is Godrej washing machines. This fully automatic compact variant has all features to cover the basic requirements for laundry in regular households
The pros
Optimum capacity of 6kg
Faster drying with a spin speed as high as 1000RPM
A perfect blend of unique features like foam protection and eco-balance
A generous 15 wash programs based cycle
Child lock
No wrinkles
Guaranteed all allergens elimination features
Two years of comprehensive warranty
In case the product is damaged, you have the scope of returning it within ten days of purchase
The cons
Although this product doesn't come with many drawbacks however absence of hot water technology to clean comes as a disadvantage
Available on Amazon.
In conclusion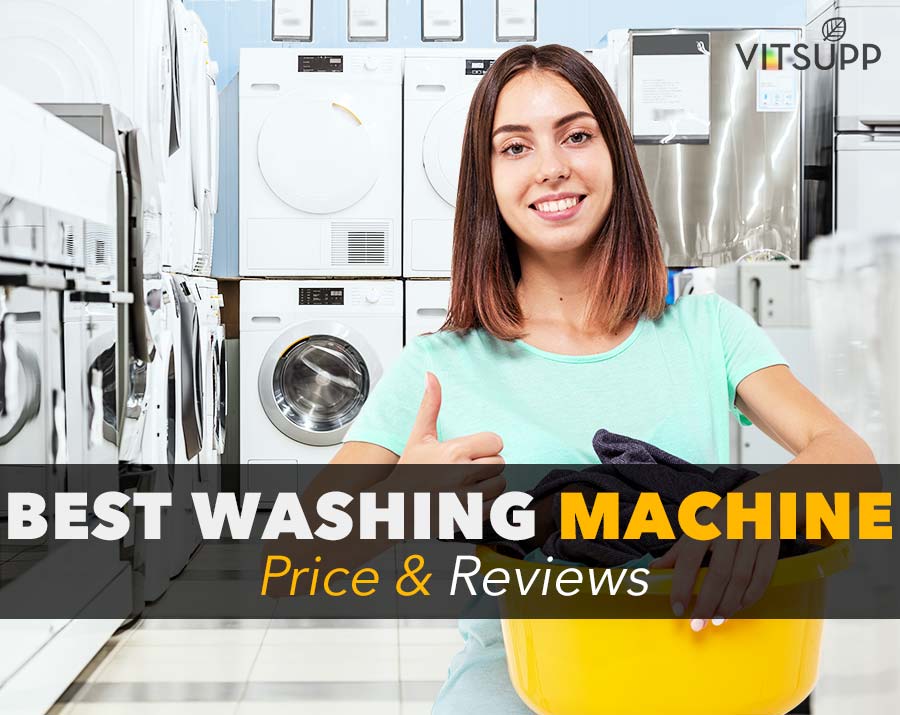 It needs to be mentioned that the number of variants available in the market is numerous, and the type of washing machine you buy should depend upon your specificities.
In case you belong from an area of water crisis semi-automatic variants should be your pick whereas in case you are in areas where there is no water crisis or you are not living in any high buildings where the water pressure is low you can go for the automatic variants.
The loading capacity and other modern features depend upon your requirement and most importantly, your budget. So research thoroughly and choose wisely.