"If you want great hair and skin, you should take vitamin C tablets." How many times have we heard this? True, vitamin C is essential for you. And not just because it is good for your hair and skin. But what about vitamin C tablets? Do you really need to take vitamin C tablets? And how do you know if these supplements are right for your body? We may have some answers for you. Read on.
Importance of Vitamin C
Vitamin C, also known as ascorbic acid. It is an integral component that helps in protecting and keeping our cells healthy.
It also helps in maintaining healthy connective tissues and healing wounds or scars.
Being a water-soluble vitamin, it often leaves our body through urine. And though the body can store some of it, we mustn't deplete it completely. (source)
Hence it is critical to maintain the appropriate levels of the same in the body. We can achieve this through various vitamin C rich sources.
Vitamin C plays a pivotal role in aiding the growth and repair of tissues across the entire body.
Moreover, it is an essential element that forms skin, tendons, ligaments and blood vessels. (source)
It also helps with healing wounds and forms scar tissues.
Vitamin C further helps in repairing and maintaining cartilages, bones, and teeth.
It also aids in the absorption of iron.
Not to forget that vitamin C is one of the essential antioxidants. It helps in blocking some of the critical damages caused by free radicals and helping the overall immune system. (source)
Food sources for vitamin C
Fruits like oranges, kiwis, lemon, and grapefruit; vegetables like bell peppers, strawberries, tomatoes, white potatoes are good sources.
You can also choose cruciferous vegetables like broccoli, Brussel sprouts, cabbage, and cauliflower. They are rich sources of Vitamin C.
Despite following a healthy diet, if you still develop a vitamin C deficiency, contact your health care provider at the earliest.
Dosage for vitamin C tablets
It is essential to talk to your care provider or doctor before consuming any supplement.
If you have an allergy or some underlying health conditions do not consume vitamin C tablets.
The dosage for both pregnant and lactating mothers should be discussed with the doctor. It is advisable to use Vitamin C tablets as prescribed by the doctor.
Moreover, you should consume these supplements within timelines.
You should neither stop nor consume these tablets for a prolonged period.
The recommended dietary allowance of Vitamin C changes according to age.
We must drink plenty of water while consuming Vitamin C tablets.
However, if you experience side effects like fever, chills, nausea, hives or even breathing issues on taking any supplement, immediately seek medical attention.
Vitamin C Tablets
Here is the list of Vitamin C tablets that one could consume, provided the health care expert has recommended the same.
1. NATURES Velvet Lifecare Vitamin C (1000mg)
Amongst several other sources, Natures Velvet Lifecare Vitamin C aids in boosting the immune system. It also provides antioxidants and helps in hair and skin health.
However, pregnant and lactating mothers should always take advice from their doctors before consuming it.
Available on Amazon.
2. Doctor's Best Vitamin C (1000 mg)
It is a vegetarian supplement.
This medicine is produced in Scotland. It is extremely beneficial for relieving oxidative stress.
This is best for people who do not prefer powder. They can easily pop up a pill.
The main two ingredients of this supplement are ascorbic acid, and modified cellulose. This is a complete vegetarian source.
However, since this supplement does not allow its consumers the flexibility to change its dosage.
Hence this does not feature on the top of the prescribed Vitamin C supplements.
Available on Amazon.
3. Healthvit C-Vitan-Z Vitamin C and Zinc
This supplement is a combination of Vitamin C and zinc.
This combination is extremely effective in curing a common cold.
Healthvit C-Vitan-Z Vitamin C and Zinc is amongst the best. Its zinc element allows better absorption of Vitamin C.
Available on Amazon
4. Source Naturals Vitamin C Sodium Ascorbate Crystals
This is one of the highest quality vitamin C supplements.
This Pure Form Vitamin C Supplement comprises of Ascorbic Acid Crystals.
It dissolves easily for quick absorption.
This supplement is suitable for vegetarians.
Contains no yeast, dairy, egg, gluten, soy or wheat.
Contains no sugar, starch, salt, preservatives or artificial color, flavor or fragrance.
For further information, please visit Amazon.
5. Nature's Way Alive is a Vitamin C
Nature's Way Alive is a Vitamin C powder. 100 percent Acerola, Kiwi, Lycium (Goji) Amla make up this tablet. Pure and natural fruits combination makes this supplement way more potent than the others.
Source: Amazon
6. Emergen-C
This tablet containing 60 single serving packets is available in super orange flavour.
However, one must check its shipping options in India.
Each of the serving provides Vitamin C much more than 10 oranges.
Besides, this supplement contains B Vitamins, Electrolytes, and other Antioxidants like Zinc and Manganese.
This when consumed daily aids in routine wellness.
This, when mixed with water, creates a fizzy drink.
For people who do not prefer so may opt for gummy, chewable forms.
You should take Emergen-C in moderation or as prescribed by the doctor, failing to do so may cause unpleasant side effects.
Available on Amazon.
7. NOW Supplements, Vitamin C-1000 Sustained Release with Rose Hips
This Vitamin C enriched tablet provides a sustained release of Vitamin C.
Besides the usual dose of Vitamin C, it also contains Cellulose, Magnesium Stearate (vegetable source) and Vegetable Coating.
This supplement is strictly for adults.
However, you should not consume this without the health care provider's recommendation.
Available on Amazon.
8. Lypo-Spheric Vitamin C
This medicine uses a revolutionary method of enhanced Vitamin C delivery.
The Liposomal Encapsulation Technology helps the body to absorb Vitamin C effectively.
The supplement is gluten-free, dairy-free, sugar and hexane-free.
This remains to be the top liposomal Vitamin C supplement since 2004.
It is scientifically proven to increase Vitamin C plasma levels 2X.
Additionally, it helps in reducing wrinkles.
It is advisable to avoid mixing the supplement with any hot beverage to prevent losing out on the liposomes.
Source: Amazon
9. Vitafusion Power C Gummy Vitamins
Vitafusion Power C Gummy Vitamins is America's number one Gummy Vitamin Brand.
However, it does not get shipped to India.
This is the sole gummy vitamin brand with Clinically Proven Absorption.
Vitafusion Power C Gummy Vitamins has been awarded the ChefsBest Award for Best Taste in 2018.
The supplement contains no high fructose corn syrup, or artificial sweeteners, or gluten, or dairy or any synthetic dyes.
Find more information on Amazon.
10. California Gold Nutrition Quali C
One of those supplements that has only pure ascorbic acid.
Both vegetarians and vegans can consume it.
This tablet is GMO-free.
Available on Amazon.
11. Solgar B Complex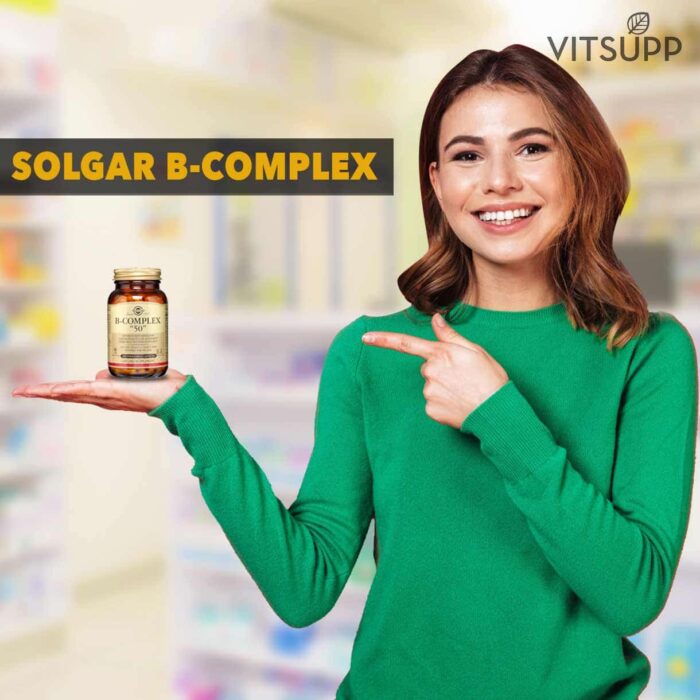 Besides containing Vitamin C, it also has Vitamin B Complex.
The presence of the latter makes the synthesis of carbohydrates and proteins easy.
Available on Amazon.
12. Natural Factors Time Release
This is the best time-release supplement.
A combination of bioflavonoids and Vitamin C makes the absorption of the latter easy.
The bioflavonoids present in the supplement also helps in protecting Vitamin C from getting oxidized.
13. Garden Of Life Vitamin Code
This product is comparatively expensive.
It is a combination of 500 mg of Vitamin C, 720 mg of organic fruits and vegetables and 60 mg of probiotics and enzymes. This makes it very potent.
Available on Amazon.
14. Country Life Buffered
This supplement contains the highest concentration of Vitamin C.
However, those sensitive to Maltodextrin and Stearic Acid should consume it with caution.
You should consult your health-care provider in such a scenario. They prepare this supplement with natural alkaline calcium and magnesium to buffer the excess acidity of Vitamin C.
15. Nature's Bounty Cranberry
Besides, containing Vitamin C, this supplement contains Vitamin E and Cranberry extracts. This supports urinary health.
Available on Amazon.
Comparison between some popular vitamin C supplements
For a better understanding, we have summed the best Vitamin C supplements below.
Here are 4 Major Vitamin C Brands compared on:
– Price
– Type
– Dosage
– Formulation
| | Bulk Supplements Vitamin C Crystallized Powder | Doctor's Best Vitamin C | Source Naturals Vitamin C | Nature's Way Alive Vitamin C |
| --- | --- | --- | --- | --- |
| Price per serving | $0.02 | $0.16 | $0.10 | $0.60 |
| Type | Powder | Tablet | Crystals | Powder |
| Dosage | 1000 mg | 1000mg | 2060 mg | 500 mg |
| Labdoor Rating | 97.8/100 | 95.8/100 | 90.0/100 | 90.8/100 |
| Vitamin C source | Ascorbic Acid | Ascorbic Acid | Ascorbate | Organic fruits |
What is the recommended dose of Vitamin C?
The dosage, according to medical advice, stands different for both the genders- for men it is 90 milligrams per day whereas for women it is 75 milligrams per day. Besides, age, genetics, absorption, disease, exercise, stress, sleep, alcohol, and various other lifestyle factors all play an essential role in the amount of vitamin C one requires.
The following chart shows the average daily recommended amount of Vitamin C intake for different age groups and criteria.
Recommended by the National Institutes of Health (NIH) Office of Dietary Supplements at the US Department Of Health & Human Services
| Life Stage | Recommended Amount |
| --- | --- |
| Birth to 6 months | 40 mg |
| Infants 7-12 months | 50 mg |
| Children 1-3 years | 15 mg |
| Children 4-8 years | 25 mg |
| Children 9-13 years | 45 mg |
| Teens 14-18 years (boys) | 75 mg |
| Teens 14-18 years (girls) | 65 mg |
| Adults (men) | 90 mg |
| Adults (women) | 75 mg |
| Pregnant teens | 80 mg |
| Pregnant women | 85 mg |
| Breastfeeding teens | 115 mg |
| Breastfeeding women | 120 mg |
How should I take Vitamin C?
It is advisable to consume Vitamin C supplements just as recommended by the doctor (source)
The dosage of Vitamin C increases or changes as per one's age, genetics or other medical conditions. One may consult their doctor or the Office of Dietary Supplements of the National Institutes of Health, or the U.S. Department of Agriculture (USDA) Nutrient Database (formerly "Recommended Daily Allowances") listings for more information.
It is important to drink plenty of water when consuming Vitamin C supplements. The chewable tablets must be chewed and not swallowed.
The Vitamin C supplement that comes in the form of gum, should be chewed until recommended. An extended-release-tablet should never be chewed, crushed or broken, it should be swallowed. Doctors recommend using a measuring spoon to take Vitamin C supplements when it is in liquid form.
The oral medicines should never be opened until one has to consume it. And one must use dry hands to open the medicine.
Health care experts advise that one must not stop using Vitamin C suddenly after long-term use at high doses.
This might lead to "conditional" Vitamin C deficiency.
The symptoms of this may range from bleeding gums to tiredness, red/blue pinpoint spots near hair follicles.
It is important to follow the doctor's instructions to narrow down one's dosage if needed as Conditional Vitamin C deficiency may be quite difficult to cure without proper medical supervision.
What happens when I miss a dose?
If one misses a dose, it is suggested to take it as soon as one remembers it.
However, one must refrain from doing so if it almost time for the next dose. One must not take an extra dose to compensate for the missed dose.
In case of overdose, one must seek immediate medical attention.
Are there any dietary restrictions?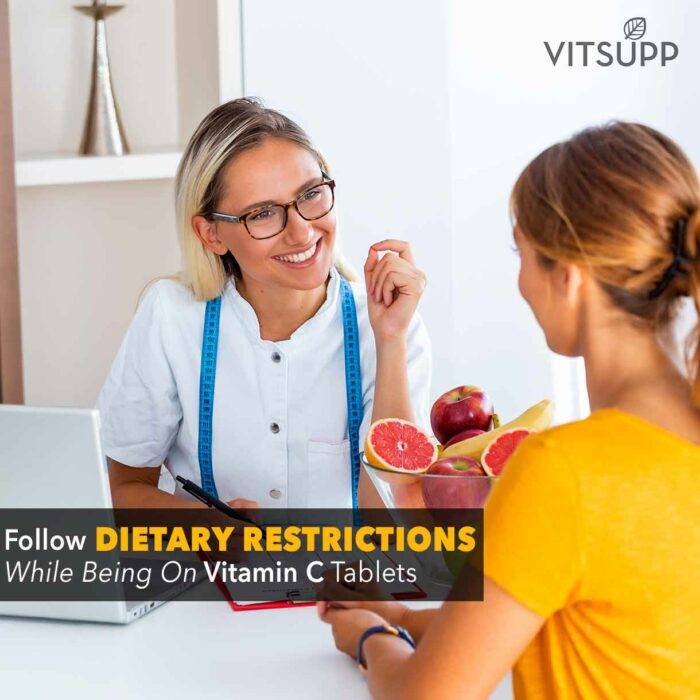 While being on Vitamin C tablets, one must follow the restrictions imposed by the doctor, about food, beverage or acidity.
When should I stop consuming Vitamin C tablets?
One must seek immediate medical advice if one faces conditions like-
– hives
– breathing issues
– inflammation of the face lips, tongue or throat.
Vitamin C tablets should be stopped immediately if an individual faces issues like joint pain, weakness or tiredness.
You should report your doctor in case of weight loss, stomach pain, chills, fever.
Also look for conditions like an increased urge to urinate, painful or difficult urination; or severe pain in the side or lower back, blood in the urine.
However, one must note that Vitamin C supplements may have some common side effects like-
– irritable bowels
– heartburn
– nausea
– diarrhoea or stomach cramps.
Medicines are known to interact with Vitamin C
While consuming Vitamin C supplement, it is essential to know that there are prescribed medicines that interact with it. The medicines that interact with this Vitamin are- (source)
Amphetamine
Benzphetamine
Bortezomib
Cisplatin
Deferoxamine
Dextroamphetamine
Doxorubicin
Doxorubicin liposomal
Ephedrine
Ephedrine nasal
Ethinyl estradiol
Flecainide
Fluphenazine
Indinavir
Lisdexamfetamine
Ma huang
Methamphetamine
Mexiletine
Paclitaxel
Paclitaxel protein-bound
Propranolol
Pseudoephedrine
Warfarin
One must remember
Vitamin C supplements may also interfere with some medical conditions. These are-
– Hemolysis
– Sodium deficiency
– Kidney stones
– Dialysis.
It also interacts with alcohol consumption and smoking. If you are a pregnant woman, you must consult your doctor to set your dose right.
High doses of ascorbic acid during pregnancy may lead to conditional scurvy in infants following their birth.
Ascorbic acid is released into human breast milk. However, its effects on breastfeeding are unknown. Hence, doctors advise maintaining caution while recommending ascorbic acid to nursing women (source)
Conclusion
Though Vitamin C remains an integral nutrient, it is never possible to consume too much of it.
Being water-soluble, it can neither be synthesized by the body or stored by it.
Therefore 65 to 90 milligrams (mg) of Vitamin C is recommended daily. An upper limit of 2,000 mg a day is permissible. (source)
For most people a healthy, balanced diet provides them with adequate Vitamin C. If you still develop a vitamin C deficiency, talk to your doctor or health care provider for Vitamin C supplementation. (source)