Want to lose weight with Multigrain Atta?
Want to go from fat to fab?
Try substituting your regular roti with multigrain atta roti or chapati.
People who have tried it are saying that multigrain roti is "super weight loss roti."
Advertisements for different brands of atta are everywhere. The question is, is multigrain atta healthier than regular atta? Will multigrain chapati help you to lose weight? Let us find out.
What is multigrain atta?
"Multigrain" means that the atta contains more than one type of grain. So, it is made from crushing more than one kind of cereal grain. However, this is not the same as "whole grain atta".
You can devise your own recipe of multigrain atta. However here are a few ingredients that you can in your multi-grain atta:
Wheat Flour (approximately 50% to 75% of total)
Ragi which is high in calcium. An excellent ingredient in winters.
Jowar which is high in iron and fibre.
Bajra that is loaded with fibre.
Buckwheat flour that is loaded with rutin which is excellent for blood pressure management.
Oats
Chana Dal
Soya Bean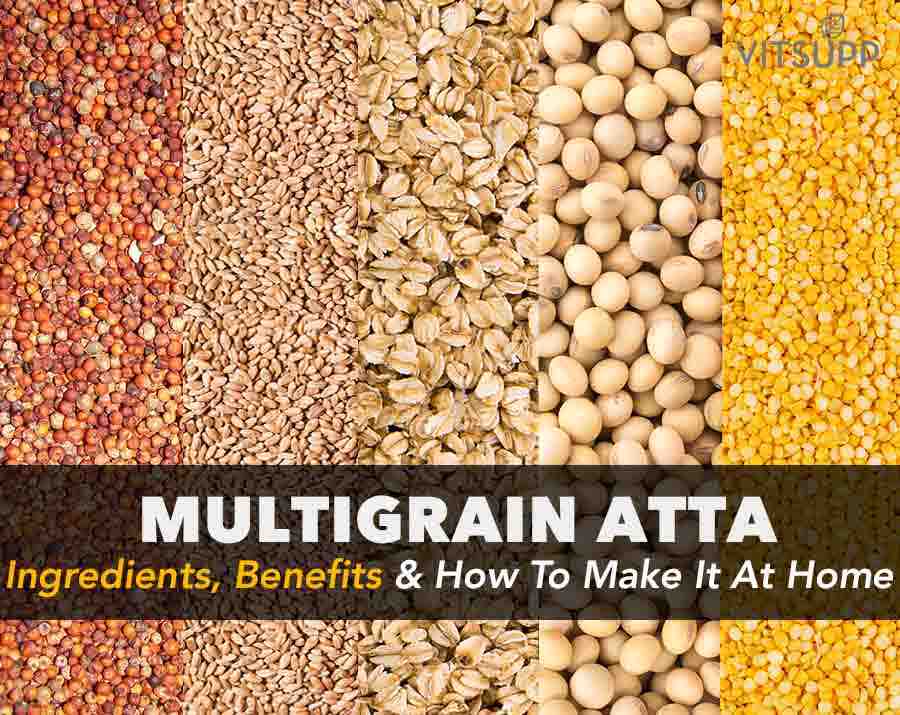 The whole wheat atta was supposed to be wholesome, nutritious and loaded with gut-benefiting fibre. However, people often complain about packaged atta to have more maida as it is heavily processed. Therefore the awareness about what people are eating is on the rise.
With the rising awareness, more and more people in India are getting to know about grains they have not traditionally used as it was not available easily in their local markets. India is home to many such grains such as bajra, jowar, malla, ragi any many more. Today people across the country are aware of the nutritional values of many such grains.
The above two led to the rise of experimentation with grains and millets in the Indian market. However, even today wheat remains to be the grain of the first choice for many. This is what led to the rise in popularity of multi-grain atta.
Multigrain atta vs other atta
"Atta", as we call it, is whole wheat flour. It is a staple food in India, in which the whole grain- including the bran and the germ are crushed. This gives it the rougher texture and brownish colour.
In maida, only the smooth, white portion of the cereal grain is crushed. This is the reason the flour is white in colour and slippery to touch. (1)
Multi-grain flour, on the other hand, is neither. It literally means the flour that is made by crushing more than one type of cereal grain. This does not necessarily mean that it is made by crushing different type of whole grains.
Multigrain Atta vs Whole Wheat Atta
Since white flour or maida is made only from the while part of the grain, it does not contain nutritious elements like proteins or fibers. Whole wheat grains, on the hand, use the entire grain and retain proteins and fibers. Whole wheat is far superior to white flour. (3)
Studies show that whole-grain multi-grain flour is even more nutritious and healthy than single whole-grain flour. (4)
However, when you buy "multi-grain atta", are you really going for a healthy choice? Or is it just another marketing gimmick to make you purchase old wine in a new bottle?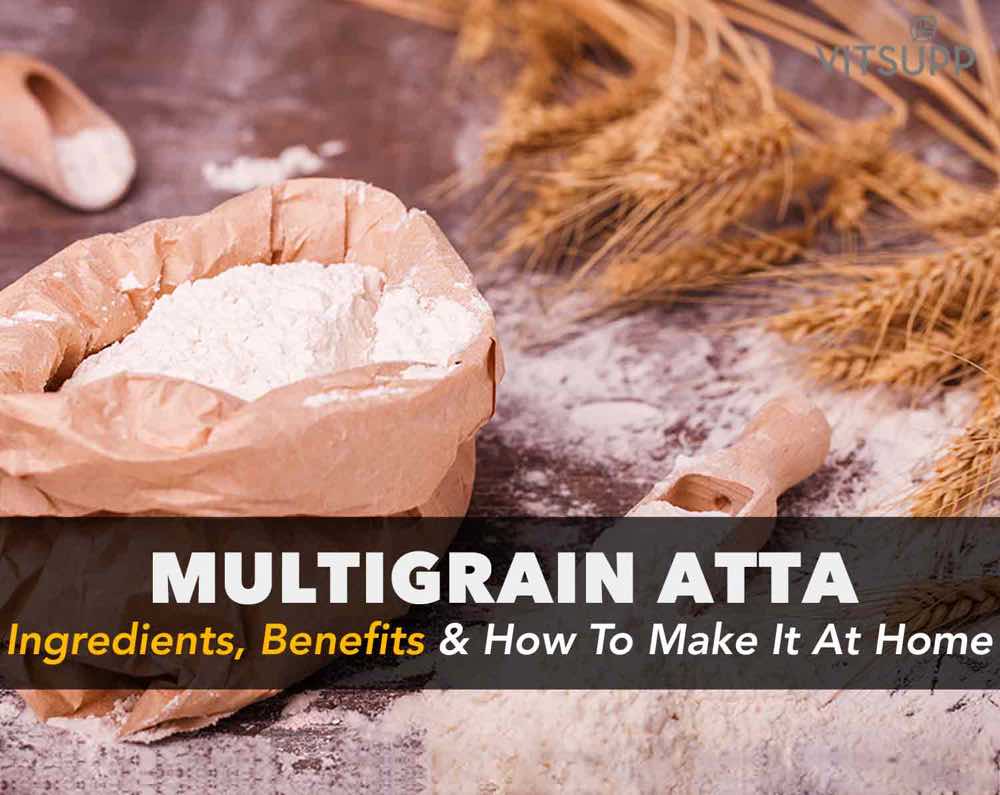 Multigrain atta in India
In India, roti or chapattis are a staple food. These are usually made from atta or whole wheat flour. However, there are many other types of atta found all over the country, some of which are eaten more regularly than atta by certain communities. These are made from millets, particularly bajra and jowar
There are many brands in India in the market. The most common grains used in this regard are wheat, soya, channa, oat, maize, ragi and barley.
However, there is no guarantee that brands will give whole grain atta when they tell you they are selling "multigrain atta".
Check the packaging carefully. Unless it specifically mentions "whole grains", chances are, you are getting the usually refined flour, which is stripped of most of its nutrients. Multigrain atta is usually more expensive than regular atta.
Aashirvaad multigrain atta
Aashirvaad multigrain atta is a combination of 6 grains.
Aashirvaad multigrain atta ingredients
| Ingredient | % |
| --- | --- |
| Wheat flour atta | 90.9% |
| Multigrain flour mixture | 9.1% |
| Defatted soy flour | 5.2% |
| Oat flour | 1.4% |
| Psyllium husk powder | 1.1% |
| Degermed corn flour | 0.9% |
| Bengal gram flour | 0.5% |
Aashirvaad multigrain atta ingredients by percentage
Aashirvaad multigrain atta price
Aashirvaad multigrain atta 5kg price:
Aashirvaad multigrain atta 10kg price:
Aashirvaad multigrain atta 5kg:
Aashirvaad multigrain atta 1kg price:
Benefits of whole grain
The best option is to go for wholewheat flour. Even better, go for whole-grain multi-grain flour. Check the product packaging to make sure that you are getting what you want.
Studies show that people who eat whole grains and whole-grain flour are more active, and are healthy overall.
If you are asking yourself at this point, "is there any way I can have wholewheat multigrain attain my diet", you need not worry. You can make your own healthy multigrain wholewheat atta very easily.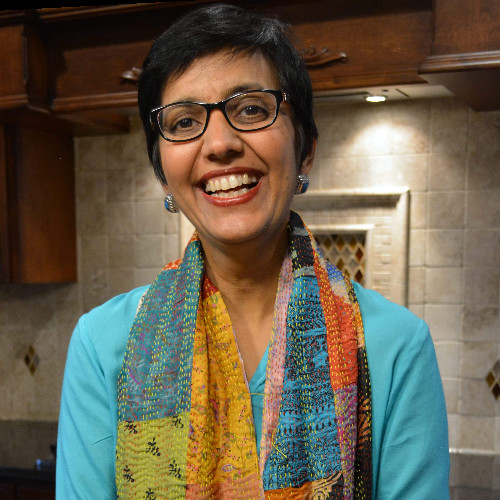 We asked Deepa Deshmukh, MPH, RDN, CDE, BC-ADM, and diabetes educator at Dupagedietitians.com about the significant benefit of multigrain atta for you. She said, "Multigrain atta is rich in fiber that offers some digestive advantages. Due to higher concentrations of dietary fibers and bioactive compounds, it improves the digestion process. Multigrain atta is also rich in protein that helps in repairing/building tissues and keeps the body and heart strong."
How to make multigrain atta at home?
It is very simple. Go and buy the grains of your choice and take it to the local mill to grind them. You can keep the mixing quantity the same for each type. You can forego wheat if you are gluten-intolerant and include other grains. (8)
In average, an Indian family's atta needs are around 15 kg in 30 days. India is one of the largest producers of food grains in the world. There are many options available here to make a selection from.
Consult a dietitian or your doctor before you make any additions to your diet plan. Ask your dietitian to decide on your ingredients and mixing quantity. Check if you have any allergies to any of the grains. You can happily skip what you are allergic to and make your own multigrain atta at home.
Homemade Multigrain Atta Recipe with Ingredients
Homemade Multigrain Atta Recipe
This recipe is for 10Kg of multigrain atta good for a family of 4 for about 15 days.
Gluten-Free Multigrain Atta Ingredients: Homemade multigrain atta recipe
Here are some of the grains you can use to make your own atta. Mix it with regular atta, or use it separately, you will be including a high nutritional source of fibres, minerals and proteins in your diet.
Jowar: Known as sorghum, this is a popular millet grain is eaten in western India. Studies show that jowar has immunity-boosting properties. Like other millets, it is rich in fibres. (9)
Bajra: In India, pearl millet is known as Bajra. Bajra is also a very popular millet, and bajre ki roti is a favourite among many people in India. Studies show that apart from being rich in fibres, bajra is stacked with amino acids, most of which are essential ones. (10)
Ragi: This is another popular grain in India, and its health benefits are many. Though a little coarse to taste, Ragi is the staple of many low-income groups. It is cheaper than regular flour. Ragi is rich in iron, calcium and dietary fibres. (11)
Studies show that Ragi contains a high amount of antioxidants and minerals. It also has anti-diabetic and anti-tumerogenic.(12)
Maize: Maize is a popular crop all over the world. Studies show that good quality maize is rich in Vitamin A, and can combat deficiencies when included in the diet. (13)
Barley: Barley is a very popular grain across the world. Scientists say that long-term barley consumption helps manage blood sugar levels. Hence, this is a very good choice for diabetics. (14)
Recipe of Homemade Multigrain Atta for Weight Loss at Home
Take multigrain atta according to the number of people present for eating. Add a little bit of salt, and some warm water. Multigrain atta is more fibrous, so you will need more water than normal.
Make the dough, and beat it until it is soft and pliable. Wet a thin cotton cloth and cover the dough for 15 minutes. Make the roti as usual.
Recipe for weight loss: Lose 5 kgs in a Month with Multigrain Atta by Skinny Recipes
From the description: " This homemade multigrain mix will help to balance all your nutritional requirements, plus it will help to lower cholesterol levels, manage blood sugar levels and blood pressure along with helping you to lose weight. This fibre-rich multigrain mix is gluten-free and will keep you fuller for a longer time."
Multigrain atta Benefits in your diet
From the above, it must be clear that multigrain atta could be great for our body. Here are all the benefits of the same:
Since this atta is a mix of two or more grains, its nutritional value is more than that of single grain flour like wheat. Most of the time, multigrain atta includes jowar, bajra, and ragi. Each of these grains has its own nutritional value. Consuming this can be great for your body.
Studies have proven that it is great for the human digestive system. Nutritious, wholesome, and loaded with fibres, multigrain is just what your digestive system needs for better metabolism.
This atta has shown to be great in aiding weight loss as well. Most of the grains and millets in multigrain atta include ragi and jowar, that are gluten-free and thus are healthy.
Millets help lower inflammation as well, so people who have inflammation, joint aches, and excess heat in the body must opt for multigrain atta that has a millet base.
For some time, "gluten-free" has been the buzzword in health circles. But scientists and doctors say that this fad results in more harm than benefits. (15)
Most scientists agree that unless there are specific allergies to gluten, a person should always incorporate some form of grains in their diet. For Indians, this is not an issue since most of us eat rotis or rice on a regular basis. (16)
FAQs on multigrain atta or multigrain flour
Q1. What is multigrain atta?
Flour is made be pressing grains. Multigrain is made by grinding together more than one type of food grain. All over the world, many brans sell multigrain flour. (1)
Q2. How is multigrain atta different than regular atta?
Regular atta is made by grinding whole wheat. Multigrain is made by pressing more than one type of grain. Popular grains in multigrain atta are- wheat, maize, barley and oats.
Q3. Is multigrain atta the same as wholegrain atta?
While it is made by grinding more than one kind of grain, there is no guarantee it will be made by grinding the whole grain. It can also be made by taking only the white/polished grain of the crop. Wholegrain atta is made by grinding the whole grain, including the germ and the husk. (4)
Q4. Is multigrain atta good for health?
There is no scientific study that says that the atta found in markets is beneficial to health. However, evidence exists that wholegrain multigrain flour is good for health. (4)
Q5. How can I make healthy multigrain atta at home?
You can simply buy your choice of grains and grind them together to make your own flour. Many Indian families follow this practice.
Q6. What grains can I use to make multigrain atta?
You can use millets like jowar and bajra, maize or corn and barley to make multigrain atta. You can mix them with regular atta or have the mixture by itself. That way, you can include a number of healthy nutrients in your diet. (8)
References
Atta (whole wheat flour) with multi-wholegrains: flour characterization, nutritional profiling and evaluation of chapati making quality. NCBI
The Truth About Bread WebMD
Development of multi grain premixes—its effect on rheological, textural and microstructural characteristics of dough and quality of biscuits NCBI
Sorghum FAO
Wholegrains, not just porridge, may increase life NHS
The Gluten-Free Diet: Safety and Nutritional Quality NCBI
Nutritional and chemical evaluation of pearl millet grains (Pennisetum typhoides (Burm. f.) Stapf & Hubbard, Poaceae) grown in the Gizan area of Saudi Arabia. NCBI
Finger millet (Ragi, Eleusine coracana L.): a review of its nutritional properties, processing, and plausible health benefits NCBI
Health benefits of finger millet (Eleusine coracana L.) polyphenols and dietary fibre: a review NCBI
Yellow maize with high ß-carotene is an effective source of vitamin A in healthy Zimbabwean men NCBI
Effect of Hordeum vulgare L. (Barley) on blood glucose levels of normal and STZ-induced diabetic rats NCBI
Health Benefits and Adverse Effects of a Gluten-Free Diet in Non–Celiac Disease Patients NCBI
Starchy foods and carbohydrates NHS